Wheaton Contract Review Lawyer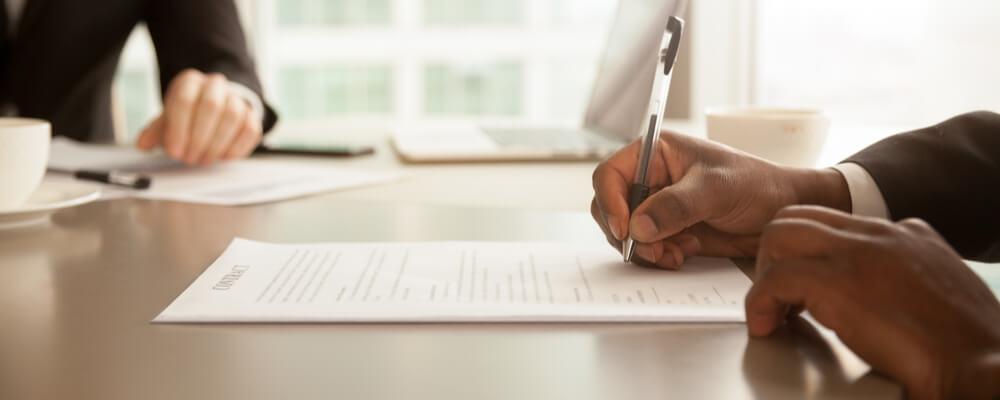 DuPage County Contract Attorney Helping Businesses Protect Their Interests and Negotiate Favorable Terms
Businesses rely on multiple types of contracts to protect their interests. These contracts may address the purchase or sale of goods or equipment, or a company may contract with someone else to provide or receive certain types of services. A business may also create employment contracts with its employees, or a partnership agreement may define the roles and responsibilities of business partners and other issues that affect the ownership and management of a company. To ensure that contracts will provide a company with the protections it needs, a skilled business law attorney can review contractual agreements and help negotiate favorable terms when creating or updating a contract.
Molho and Associates, LLC offers legal help and representation to address issues that affect businesses. We have nearly 30 years of experience in multiple practice areas, providing us with the knowledge and skill to ensure that a company's legal concerns will be addressed correctly. We believe in handling matters efficiently while providing our clients with a professional level of care and building relationships to ensure that we can meet their legal needs. With our strong understanding of contract law and our experience representing the interests of multiple types of businesses, we can review contracts, identify issues that may affect the parties in the future, and negotiate terms that will ensure that a business's interests will be protected.
Addressing and Resolving Contract-Related Issues
Whether a business is negotiating a new contract or looking over its current contractual agreements to determine whether they should be updated, we can review a contract's terms and negotiate changes when necessary. We can help address issues such as:
Terms of a contractual agreement

- We will make sure all relevant aspects of an agreement are fully defined, including clear descriptions of the scope of work performed or the goods provided, the methods of payment, and deadlines or other important dates.

Indemnification - A contract may include clauses that will state that one party will be responsible for paying certain types of expenses incurred by the other party, such as legal claims or liabilities. We can make sure the parties understand how these agreements will apply to them, and we can help our clients determine whether they can include language in a contract that will limit their potential liability.
Restrictive covenants - Depending on the needs of the parties, a contract may include clauses restricting one or both parties from taking certain actions or engaging in certain types of business activities. We can help our clients make sure the terms of non-disclosure, non-compete, or non-solicitation clauses will protect their interests without placing unfair restrictions on them.
Termination and renewal - We can make sure our clients understand when a contractual agreement will end and the procedures that will be followed in these circumstances. We can also help them determine whether it may be beneficial to include terms that allow for a contract to be renewed or what steps they will need to take to terminate an agreement that no longer meets their needs.
Dispute resolution - When disagreements arise regarding whether one party has breached the terms of a contract, these matters may be resolved through litigation. However, resolving these issues in court can be expensive and time-consuming, and the parties may agree to include terms in a contract that state that other methods will be used to resolve disputes. We can help our clients determine whether it is a good idea to specify that mediation or arbitration will be used to address contract disputes.
Contact Our Wheaton Contract Law Attorneys
Our firm can provide legal help with multiple types of business contracts. We can review contractual agreements and help our clients negotiate favorable terms that will allow them to achieve their business goals. Contact us and arrange a consultation by calling 630-517-2622. We assist with contracts and other business law matters in Chicago, Kane County, Wheaton, DuPage County, Downers Grove, St. Charles, and Naperville.